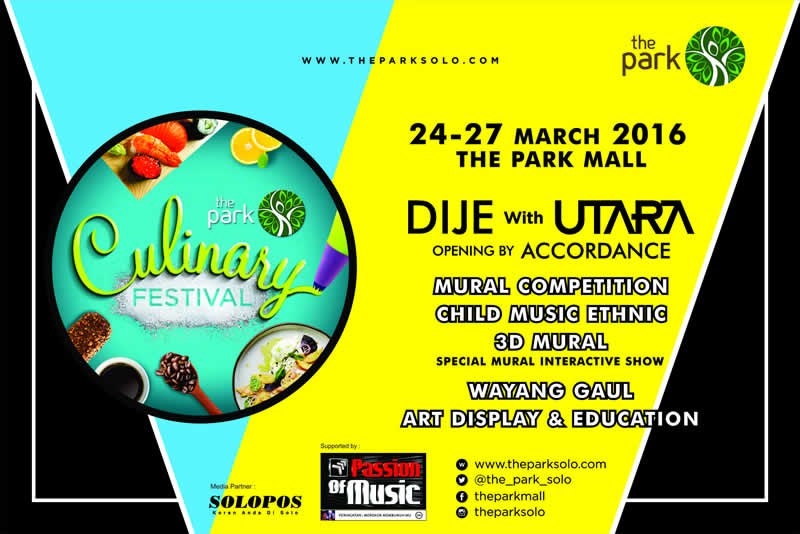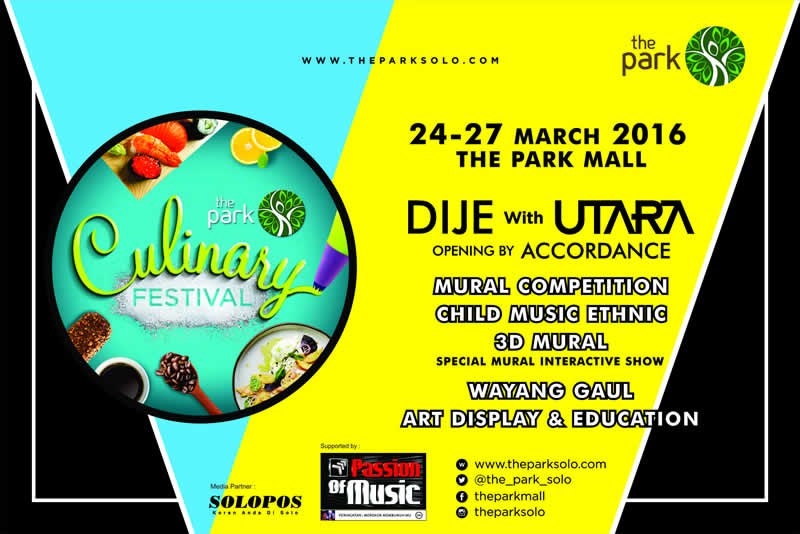 Soloevent.id – Sukses dengan Culinary Festival September lalu, The Park Mall kembali hadirkan acara serupa Maret ini. Dengan konsep yang berbeda dari tahun lalu, kali ini The Park Mall mencoba untuk mengkolaborasikan antara Art Festival dan kuliner. Hadir mulai Kamis – Minggu (24-27/3), Culinary Festival ini bisa dinikmati mulai pukul 16:00 – 22:00 WIB.
Diakui oleh Public Relation The Park Mall Solo Baru, Christina Tri Mawarti, setiap event culinary festival ini digelar, traffic pengunjung selalu naik dari biasanya. Ditargetkan, akan ada 50.000 pengunjung lebih, pada event tersebut.
"Ditunjang long weekend tanggal merah itu, pasti pengunjung akan lebih banyak dari tahun kemarin. Apalagi ini tempatnya di parkir selatan sepanjang rute jalan pengunjung. Pasti akan lebih menarik minat karna kita juga nyediain tiker. Jadi gak usah masuk mall. Bisa langsung makan sambil lesehan," ujarnya pada Soloevent, Rabu (23/3).
Tak hanya event kuliner, banyak juga hiburan yang akan dihadirkan untuk meriahkan acara tersebut. Berikut rundown acara culinary festival The Park Mall Solo Baru.
Jadwal Culinary Festival The Park Mall beserta rangkaian acaranya.
Kamis – Minggu, 24 – 27 Maret 2016
10.00 – 22.00      : Pameran Lukisan Sriwedari di Atrium The Park Mall.
Rabu, 23 Maret 2016
15.00 – 19.00      : Performing Art by AUB di Atrium The Park Mall.
Kamis, 24 Maret 2016
10.00 – 22.00      : Performance Art SMU 5 di Atrium The Park Mall
Jum'at, 25 Maret 2016
19.00 – 22.00      : West Brother Performance di Atrium The Park Mall
19.00 – 22.00      : Wayang Gaul di Central Park The Park Mall
Sabtu, 26 Maret 2016
19.00 – 22.00      : Utara Band Reunion & Accordance di Central Park The Park Mall
Minggu, 27 Maret 2016
10.00 – 22.00      : Baksos Mercedez Benz Club di Central Park & Depan Score The Park Mall
11.00 – 15.00      : Festival Jimbe Tingkat Sekolah di Atrium The Park Mall
16.00 – 22.00      : Mural Gravity Performance di Parkir Selatan The Park Mall
Kamis, 31 Maret 2016
10.00 – 12.00      : Baksos Ikatan Dokter Gigi di Atrium The Park Mall