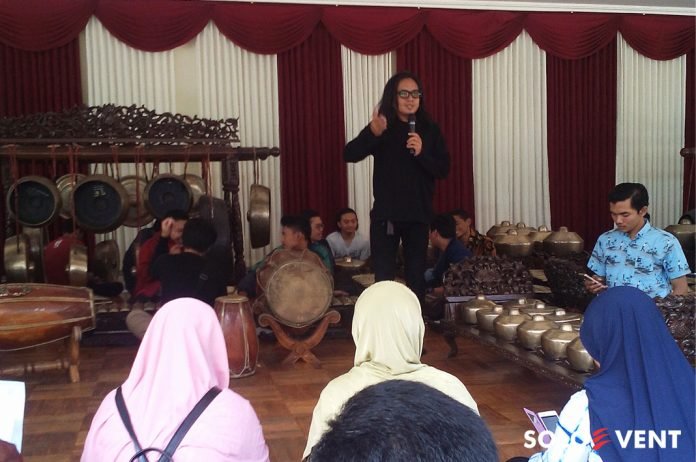 Soloevent.id – The gamelan music began to play along with the direction of Gondrong Gunarto. The musicians look excited when playing the music. On wednesday (08/01/2018), pengrawit with the majority of young people undergoing practice for soft opening of the 2018 International Gamelan Festival.
The theme is "Gamelan Bersama Masyarakat dan Pelajar", the event will be held on 9 August 2018 starting at 15.00 WIB, along the citywalk area of ​​Jl. Brig. Slamet Riyadi.
The event coordinator, Nanang, said, the participants were given material supplies that morning. "This rehearsal is to finalize the soft opening of the 2018 International Gamelan Festival," he explained when he was met by a Soloevent at the Pendhapi Ageng Institute of Indonesian Art (ISI) Surakarta.
Soft opening will be followed by 73 gamelan groups in Solo. They come from urban gamelan groups and students. The compositions of the gamelan that will be played on the event are worked on by Gondrong Gunarto.
Gondrong Gunarto is an artist who graduated from the ISI Surakarta. In addition to making the gamelan composition for soft opening, Gondrong and his group, Ghost Gamelan will also enliven the 2018 International Gamelan Festival at the ISI Surakarta Theater on August 13.
The International Gamelan Festival will officially open on the 9th of August at Vastenburg Fortress. In this opening event three composers will be performed: Rahayu Supanggah (Solo), I Wayang Yudane (Bali), and Taufik Adam (Padang Panjang); and two groups: Kua Etnika (Yogyakarta) and Southbank Gamelan Players (UK).
Through its Instagram account, the International Gamelan Festival 2018 announces that the opening ceremony can be watched for free, but the audience must wear batik or Nusantara clothing.