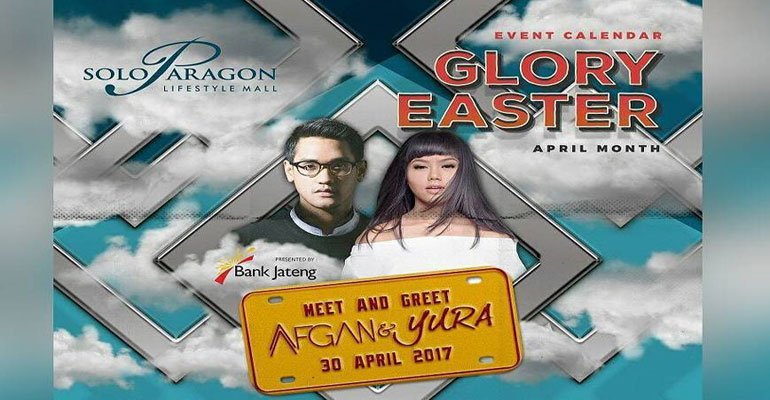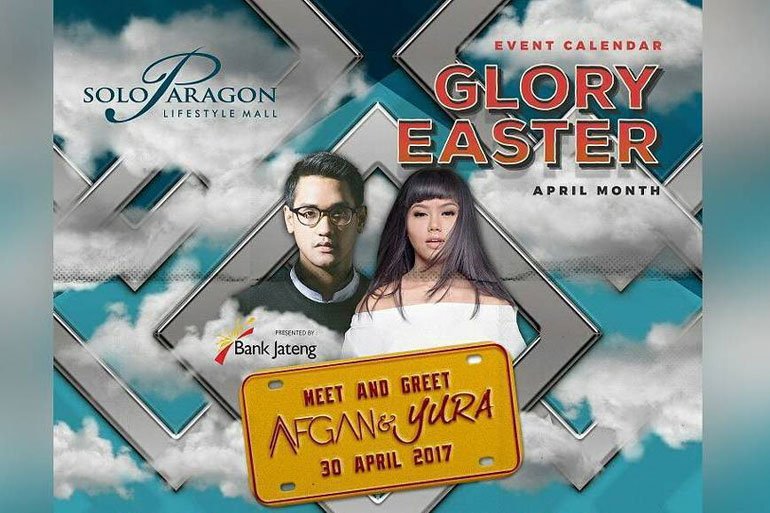 Soloevent.id – Nge-fans sama Afgan dan Yura? Bergembiralah karena pelantun "Jodoh Pasti Bertemu" dan "Berawal dari Tatap" itu bakal mampir ke Solo Paragon Mall akhir April 2017 ini. Dua penyanyi muda tersebut akan tampil di event yang dibikin Bank Jateng. Meet and greet itu bakalan diselenggarakan 30 April 2017.
Afganisme dan Hip Hip Yura pasti enggak sabar nunggu akhir bulan, ya? Sedikit flashback yuk biar makin kangen sama idola kamu.
Afgan terakhir kali ke Kota Solo pada Desember 2015 lalu. Kala itu solois bernama lengkap Afgansyah Reza ini manggung di konser bertajuk Setulus Hati. Kalau Yura sih baru Desember 2016 lalu main di Solo. Waktu itu Yura tampil bareng Judika.
Selain meet and greet Afgan dan Yura, Solo Paragon Mall masih punya banyak acara lainnya, mulai dari dari fashion show, beauty class, pameran, dan lain-lain. April ini, kalender event Solo Paragon Mall bertema "Glory Easter".
Berikut adalah jadwalnya.
2 April: Solo Paragon Choir Competition #1
Tempat: Upper Galery
5 April: Hijab Competition "Kreasi Hijab Cantik"
Tempat: Upper Galery
5-9 April: Pesona Wanita Fashion Show
Tempat: Upper Galery
6 April: Make Up Show "Arabian Look"
Tempat: Upper Galery
7 April: Make Up Malam Glamour Competition
Tempat: Upper Galery
8 April: Beauty Class with LT Pro
Tempat: Upper Galery
9 April: Kids Fashion Show "Busana Nusantara"
Tempat: Upper Galery
16 April: 1st Anniversary MOC
Tempat: Grand Atrium
21 April: Kids Fashion Show Competition
Tempat: Upper Galery
21-31 April: Material Building Exhibition
Tempat: Grand Atrium
29-30 April: Lions Club Solo Centennial Photography Competition
Tempat: Upper Galery
Setiap Minggu: Voca Erudita Goes to Spain
Tempat: Foodwalk